Mother's Day Gift Ideas Part Three: Moms Who Love Decorating
In our Mother's Day series, so far we've covered
how to have a great brunch
, some
beautiful jewelry gift ideas
, and some
great gifts for the Mom who loves to garden and spend time out on the patio
in the summer. Now we'll turn our attention to all of the Moms who have a flair for home decor and design. Some Moms just have that knack for creating spaces in the home that are inviting, comfortable, pretty...and, well, just pleasant to be in. Why not let Mom know that you've noticed the amazing environment she's worked on creating by following her lead, and getting her something that might add even more to the home vibe she's got going already. Now, I'm not talking about reinventing her design style....Mother's Day is not the time to hint that Mom needs a new style. But with some simple gifts, you can help to accent any style that Mom has going on at her house.
I think just about everyone loves the ambiance that candles add to a space. Something about that soft flickering light is relaxing and welcoming at the same time. Now there are so many wonderful scented candles available...they don't just add style, they add a beautiful fragrance to the environment. Even if Mom already has candles, she can always use more, especially if she burns them every day like I do! It might be a nice idea to get her some candles in fresh, spring and summer fragrances. My favorite candles, hands down, are the three wick jar candles from Bath and Body Works. The pack a lot of fragrance punch, and they are really affordable. There may be better candles out there, but I haven't tried them, because I don't have a spare $150 laying around for a candle! Bath and Body has so many amazing fragrances to choose from, it may be hard selecting. We've got a few ideas for great fresh scents to try for summer.
With the fresh scent of the sandy beach, beach grasses and the salt air, Oceanside is sure to remind everyone of fun summer vacations.
While Oceanside is lovely, my absolute favorite candle scent of all time is Island Waters.
There is just something about this candle....it smells fresh, clean and if smells had a color, this one would be the exact color of the candle!
If Mom likes a tried and true fragrance that can really be used year round, you can't go wrong with French Lavender.
The timeless fragrance of lavender is instantly relaxing and homey. This one would be great in the bathroom near a soaking tub.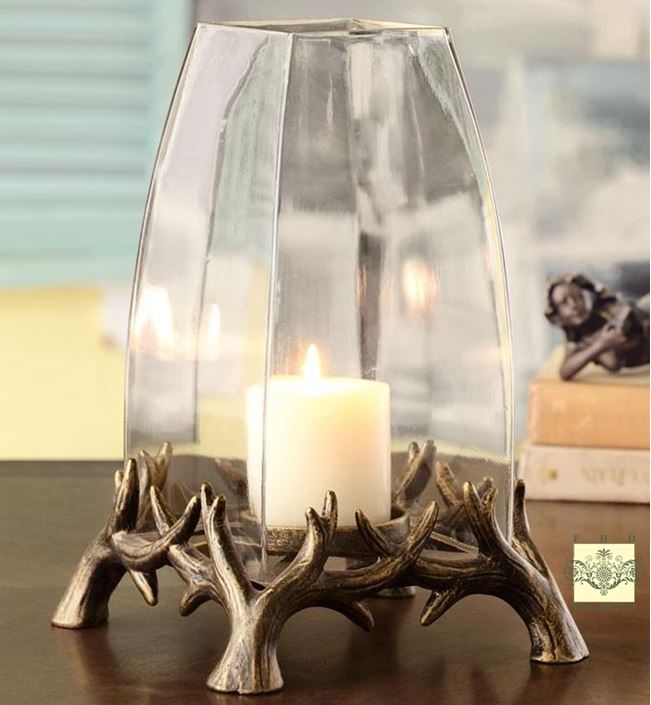 Once you've got these fabulous smelling candles, you may want something pretty to display them in. I love the look of candles in a
tall glass hurricane candle holder
. This one has a great rustic feel with metal antlers holding up a faceted glass holder. Imagine how beautiful the three flickering lights on the jar candle will look as they bounce reflections off of the glass! And, it comes in a set of three, which is perfect for lining up along a table, or putting them in different areas of the home.
For even more versatility, you may want to give these
Footed Hurricanes
a try. They look great even with nothing in them, but look how pretty they make this collection of river rocks mixed with a rustic popourri.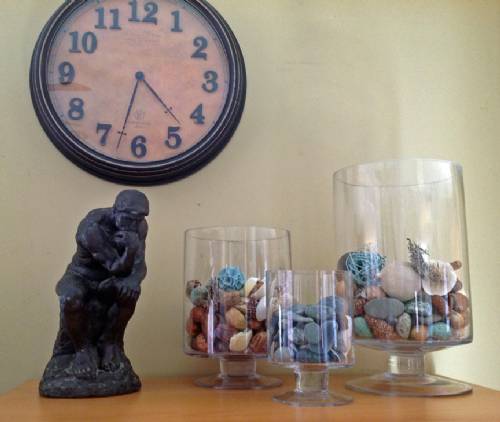 Elegant Footed Glass Hurricanes
Simple in design, they would be perfect for holding your scented candles, but Mom could also use them as a vase, or to display a collection of sea shells, or really just about anything. So this would be a gift that keeps on giving...and every time Mom pulled them out or changed how they were displayed, she would remember how thoughtful you were this Mother's Day! Check out some of these ideas!
Versatility in a Hurricane!
One other super cool way to display those beautifully fragrant candles is to keep them covered with
glass bell jars
when they aren't in use. Obviously, you can't burn a candle that is covered completely with a glass cloche, but keeping the candle covered when it's not burning is a great way to keep dust off the candle, conserve the fragrance and make an elegant design statement at the same time. Plus, when Mom blows out the candle, she can cover it immediately with the
domed cloche
to prevent smoke and soot from permeating the room.
Bell jars are perfect candle covers!
Alright, so we've got
brunch
covered, and a few ideas for gifts. We'll see what else we can dig up for you to help you make this Mother's Day the best ever for that special Mom in your life!