Mother's Day Brunch - Don't Forget the Drinks!!
Every great brunch needs great beverages!
Mom's big day is almost here! We've loaded you with all of the ideas necessary to make it a great day for her. A s
pectacular brunch
, and great gift ideas for Moms with all different types of interests! But we forgot one important detail about brunch....any great
brunch
has to have its share of festive beverages - especially a brunch that is celebrating Mom! We love the idea of sparkling wine like Prosecco, Cava or of course, Champagne! We've all heard of traditional mimosas, made by mixing a sparkling wine with orange juice. But how about mixing it with another type of fruit juice? A bright pink berry juice? Or perhaps rich pomegranate juice? Or even deep orange-yellow mango juice? Add some bowls of fruit for garnishes, like strawberries, raspberries, watermelon chunks, and whatever looks good at the market. All of these sound delightful, and would be the perfect drink to offer guests as they arrive to the Mom-centered celebration.
For Moms that prefer a savory beverage, this excellent
Sriracha Bloody Mary recipe from Diane and Todd at White On Rice Couple
might be worth a try!
Bloody Mary's = Perfect Brunch
The spicy Sriracha would be the perfect complement to sweet french toast or pastries. And look at how festive these drinks are! Along with a pitcher of freshly made Bloody Mary's you can have assorted garnishes along side, including celery stalks, carrots with greens attached, lime wedges, cilantro, cucumber spears, long green beans, cherry tomatoes, scallions, green olives, skinny pepper wedges in orange and yellow...and the list goes on to include anything you think would go well with this delectable drink.
The great thing about both of these drinks is that you can have an alcoholic version if you'd like and also a version "sans alcohol", so adults who'd like a cocktail can have one, but those who prefer not to drink before 5pm still have lots of festive options. And kids will have tons of options too! Either of these would work well with sparkling water mixed in as well for a bit of bubbly.
Refreshing Lemony goodness
Our favorite sparkling water is
La Croix Sparkling Water, Lemon Flavor, 12 pk
.
All of the flavors of La Croix are delicious, but the lemon is particularly refreshing, and will pair very well with Bloody Mary ingredients, as well as the sweeter fruit juices, without being overpowering. And it's is delicious all on it's own too!
Of course, there will need to be plenty of delicious, hot coffee on hand. Brew a pot as your guests arrive, and keep it in a thermal container, or for a more special touch, have small french presses, like this one,
Utopia Kitchen Triple Filters French Coffee Press Maker, Heat Resistant Glass with Stainless Steel Glass, 34oz, Chrome
available for guests to make their own coffee to their liking.
A French Press is perfect for fresh coffee
If you have some teens there, you could have them staff a "hot beverage bar" with the french presses and some thermal carafes full of hot water so that they can assemble the ingredients for the Moms and serve them. You could have various teas at the hot beverage bar as well so that Moms can have freshly brewed tea too. Herbal, green and black teas are all great to have available so everyone can have their favorite. Having a hot beverage station is a great way to get teens involved in the brunch while also lessening the burden on you as the host of the event.
One last thing to make those drinks and your brunch a success....displaying all of your beverage ingredients! For your sparkling wine and juice bar, or for your Bloody Mary Bar, you may want to use
table mirrors
. Imagine how beautiful the sparkling wine and colorful glass bottles of juice will look reflected off of mirrors! You could even add a few votive candles for warmth and interest. Your garnishes could be in small glass jars or bowls so that the color of the fruits and veggies is reflected in the mirrors too.
Mirrors and candles add style & elegance
For the hot beverage bar, you could still use mirrors, or you could mix it up a bit and use a glass lazy susan to hold tea bags, sweeteners, and cream. Another glass turntable could hold cups and teaspoons.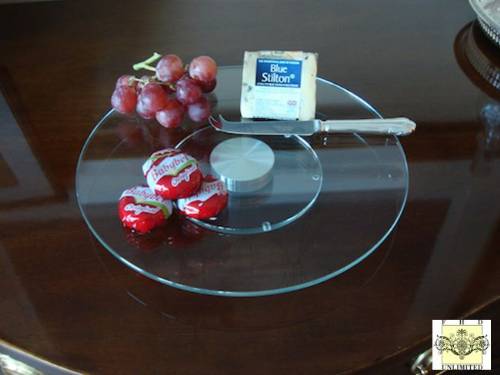 An elegant way to display tea, cream and sugar
And there you have it....Some wonderful drink ideas...hot and cold....for the perfect Mother's Day Brunch! Let us know how your celebration is! We'd love to hear from you!